Bhakti's Yoga, situated in Navrangpura - the heart of Ahmedabad City, was established by Mrs. Bhakti Shah in the year 2007. Since it's inception, it has gained popularity and respect of people who experienced the ultra-positive vibes of this place.
There are students who have been attending Yoga sessions over here for many years. Few have trained and have become Yoga teachers themselves too.
Bhakti as a young girl, in her school, was always good with physical exercises. She had great interest in Yoga.
She took her first Yoga training through Siddh Samadhi Yoga (SSY) conducted by Rishi Samskruti Vidya Kendra (RSVK) in 1993. Here she learned the ancient art of Yogas and Pranayamas. This was a life changing experience for her. She was relieved of her mental stress and gained inner peace. She realized that Yoga is not only for physical fitness, but also for mental fitness. She has been practicing Yoga and Pranayamas since then.
While practicing Yoga, she also learned other Yogic theories through various books and publications.
In the year 2000, she went to USA along with her family and stayed there till 2006. During this period, she got an opportunity to give guidance on Yoga to her friends.
On coming back to India, she took up a course on Yogic Sciences at Yog Sadhana Ashram, Ahmedabad, and became a certified Yoga therapist. The course helped her understand the human anatomy and Yoga technics to help others relieve their physical problems.
With the knowledge she gained, she now started group and private tuitions, helping people resolve their physical and mental problems.
She is a constant learner. Over the course of time, she also took up a courses on Tibetan Yoga, learned technics for Power Yoga, Iyengar style of Yoga, Tai Chi, did various courses on alternative healing technics like REIKI (Degree 1 and 2) and Sound Healing using Singing Bowls.
Many of her articles has been published in renowned newspapers and magazines like Times of India, Divya Bhaskar, Sakhi, etc. She has delivered lectures on Ashtang Yoga at different corporates, schools and institutes like Rotary clubs. She has appeared on live talk shows with Sandesh News Channel and delivered lectures on Yoga and different diseases in Doordarshan TV Magazine - Swasth Bharat. She also specializes in planning and preparing Healthy and Nutritional meals for past 12 years.
She has been running her Yoga Classes at her own Yoga Studio for over 14 years now in the heart of Ahmedabad City, where she specializes in Yoga for Pregnant Women, Sports Yoga and Yoga for Youth. She has been very passionate about Suryanamaskar and has developed her own style which she calls "Aadi-Suryanamaskar".
Following this passion, and with a view to promote some heritage spots and Suryanamaskar, she and her equally enthusiastic team has been performing 108 Suryanamaskars at heritage spots since last 3 years at places like Modhera Sun Temple, White Desert of Kutch, On the Banks of Ganges at Rishikesh, On the banks of Pushkar Lake, Hatheesinh Na Dera, Sarkhej Roja and Gandhi Ashram.
Her reputation in the field of Yoga has attracted many highly reputed names in the city to be a part of her clientele. Mr. Naresh Mittal - Leading Businessman, Mr. Parthiv Patel - National Cricket Star, Ms. Jhanvi Patel - National Tennis Player, Mrs. Diana Rawal - Stage Artist and Actress, Mrs. Jimmy Nanda - Mrs. India and Actress, Dr. Rajika Kacheria - Renowned Cosmetolist and Beautician are a few to name.
She is a Brand Ambassador, Promotor and Model for "Yogasya" brand of Yoga Props. Bhakti is a Promoter of International Alliance of Yoga Therapists (IAYT) India Foundation and member of the proposed committee.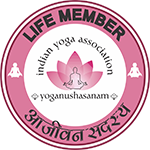 She is also a Joint Secretary at Indian Yoga Association, Gujarat Chapter (Government of India unit) since 2019, i.e. since it"s inception.